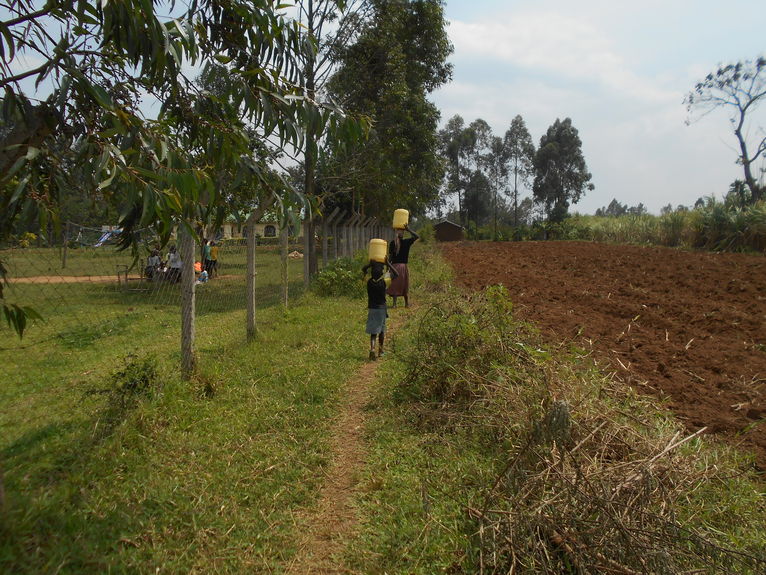 Dear beloved; pics, villagers fetching water at Living Water spring; Living Water children (in blue shirts) leading dancing at Sabatia Crusade
John 4:13 Jesus answered and said to her, "Whoever drinks of this water shall thirst again, v14 but whoever drinks of the water that I shall give him will never thirst. But the water that I shall give him will become in him a fountain of water springing up to everlasting life."
Beloved, one of the great stories of Jesus details His encounter with a Samaritan lady at Jacob's well in Samaria. She is an outcast to her own people as well as the kingdom of God. But the story shows the love of Jesus for those who are trapped in sin and are social outcasts in their own land. At Living Water children's home, we are blessed to have an abundant supply of very clean, sweet spring water, an everlasting spring. We give it to the villagers to show our love for them, and bring blessings and goodwill to their lives. They come to drink, fill their jerry cans, and do laundry. At the Sabatia Crusade last week, over 300 people came to know the living water and Jesus Christ as their Lord, and many more were delivered of witchcraft and other demonic spirits. It was an outpouring of the glory of God and the everlasting life. Won't you join us as we take the good news of the gospel to a dry and thirsty land? As you send we are able to go. May God bless you as you pray!
In Christ, Jim Gather the Outcasts, Box 92, Norton, Ks. 67654 501c3 Donate at Paypal@www.paypal.me/gathertheoutcasts or www.gathertheoutcasts.com Email:pureprairie@hotmail.com www.facebook.com/jimrowh